Studies estimate that 91% of users will use their phones to access the internet by 2017. With projected numbers at 5.13 billion mobile phone users by 2017, it is more important than ever to think about how mobile will fit into your business.
For HR & Payroll professionals, this means that more daily work processes are going to be transitioned to mobile devices – for both administrators and employees.
Move Over Punch Cards — Make Way for Mobile HCM

Gone are the days of the punch card and manual timesheets. Employees can now access pay stubs, PTO options, and more with the ease of a mobile application from anywhere.
MassPay offers a new mobile app as a companion to our iSolved HCM platform that allows employees to clock in from wherever they are, even offline. This information can then be approved by a supervisor via the same mobile application so that your company can keep moving all day long.
How Can a Mobile HCM Product Benefit Your Business?
In today's busy work environment, a mobile HCM app can save time for everyone, helping them find information quickly, allowing them to make requests, grant approvals and to make decisions more quickly.
iSolved Mobile HCM helps you manage time punches and locations for individuals and groups.
When you use the mobile app you can:
View pay stub summary
View pay details
View and change W4
View PTO balances
Request PTO
Approve PTO
View schedules
Get GPS coordinates for time punches
Operate Offline
Mobile HCM as a Management Tool
iSolved HCM, combined with the Mobile HCM product, makes managing your HR, Payroll and time tracking easy, while keeping you compliant and organized.
Employees save time by using their phones to clock in and out, while employers save time by taking the guesswork out of time sheets and improving accuracy. With all of these features (and more coming soon) – you'll want to get iSolved Mobile HCM today!
Mobile HCM and Corporate Policy
As mobile gains traction in the workplace, it's important for HR and IT professionals to look at their BYOD (Bring Your Own Device) policy before rolling out Mobile HCM to employees. Read our blog post, BYOD – Time to Face Reality and Create Policy, for the eight "must haves" to include as part of your BYOD Policy in the employee handbook.
iSolved Mobile Features Overview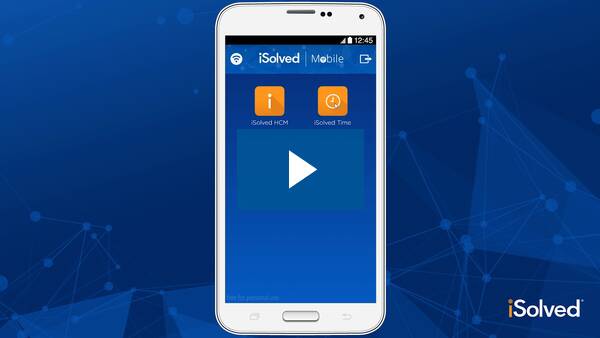 To learn more about iSolved Mobile HCM and how MassPay can help automate your HR and Payroll processes, contact us today.
About MassPay
MassPay provides HR, Payroll and Time & Attendance solutions, along with ASO and other services, to help small to mid-sized companies automate process, stay in compliance with ACA and other legislation, and leverage technology to optimize their workforces.