Collect, manage and process time and attendance data quickly and easily with iSolved
Recording and reporting employees' time and attendance can be very time consuming for Human Resource and Payroll administrators, especially if the business requires varying shifts, shift differentials, rounding, overtime, job tracking and scheduling.
Adding iSolved Time to your HCM solution helps you improve the bottom line, while improving data accuracy and providing greater insight into employee work time and absences.
iSolved Time helps you capture and calculate work hours for an accurate payroll and provides the data to calculate eligibility for the ACA (Affordable Care Act) and produce the required reports within iSolved.
Key Features of iSolved Time
iSolved Time helps you streamline work hours collection. Highlights include:
Graphical calendar timecard
Drag, move, copy and change time
Daily, weekly or pay period view
Self-service punching
Hours and punch entry
Meal / Break Punches / Hours
Punch interval and Range rounding
Labor allocation
Alerts
NGX-G2 clock
Watch the iSolved Time Video (approximate run time is 10 minutes) to learn more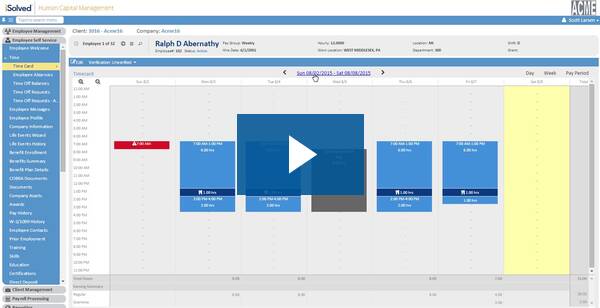 Contact us to learn more about adding Time & Attendance to the iSolved HCM solution